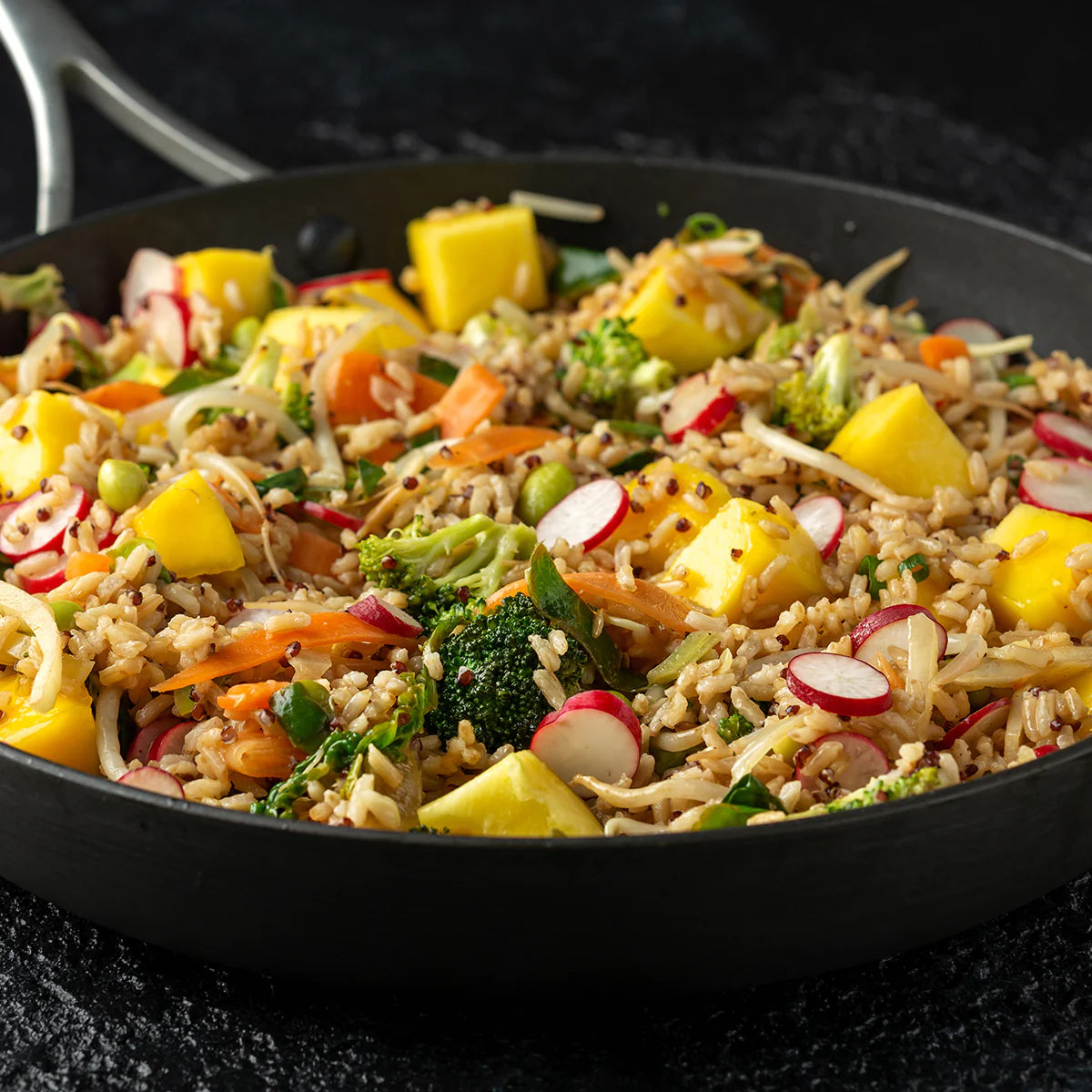 At Bagrry's we believe in providing you with honest health and natural nutrition with every product, always putting.
Ingredients
For the sauce:

2 Tbsp soy sauce
Juice of half a lime
1 tsp sesame oil
1/2 tsp brown sugar

For the stir-fry:

1 cups Bagrry's Steel Cut Oats
1 tablespoon canola oil
3 leeks, thinly sliced
1 inch ginger, finely chopped
1 large clove garlic, finely chopped
1/2 cup baby corn or sweet corn
1 red pepper, cut into thin long pieces
1 carrot, cut into thin long pieces
1/2 frozen peas or edamame
Two big handfuls baby spinach or shredded bok choi
2 eggs, lightly beaten (optional)
1 tsp sesame seeds
1 tablespoon chopped cilantro (optional)
Preparation
To cook the oats:

Bring to boil around 1 cup of water and add 1 cup Bagrry's Steel Cut Oats and ½ teaspoon salt, cover and let it stand for 15-20 mins, till the oats have absorbed all the water
Drain any excess water and stir with a fork to open-up the grains and leave it to cool in the refrigerator for a few hours

For the stir-fry:

In a small bowl, whisk together sauce ingredients. Set aside
Heat oil in a wok or a large skillet over high heat. Quickly stir-fry scallions, ginger and garlic until fragrant
Add corn, red pepper and carrot. Fry, stirring constantly, until vegetables are crisp-tender.
Add peas and spinach. Cook until spinach is wilted. Stir in oats and sauce
Push the oats and veggies to one side of the wok or skillet. Pour the eggs into the other side and quickly scramble. When eggs are set, but still soft, fold into the oat/veggie mixture (optional)
Remove from heat and top with cilantro and sesame seeds.